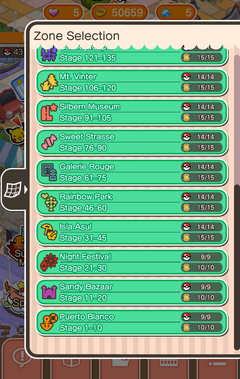 Main Stages contain the core stages of the game, consisting of several areas each with 10, 15, 30, 50, or 60 stages. There are 700 stages in both the 3DS version and the mobile version. The player must complete the tutorial (first 11 stages) before they have access to the Expert Stages and the Special Stages.
Each stage after the tutorial rewards 100 Coins (200 on Mobile) for the first win and 30 Coins for subsequent wins. Each of the last stages in most areas also rewards 1 Jewel and a Mega Stone (No Jewel on Mobile, just 5 Hearts). In some of the later areas, other rewards include Raise Max Level on stages not necessarily the last one in the area.
As of the 3DS v1.5.1 and Mobile v1.12.1 updates, players can unlock all of the stages in an area using Jewels, as long as the player has access to that area (clearing the last stage in an area grants access to the next area). All areas from Sandy Bazaar to Albens Town cost 2 Jewels each to use this feature, and all other areas cost 3 Jewels each.
As of the 3DS v1.5.6 and Mobile v1.12.3 updates, clearing all 700 stages unlocks the UX Stages.
Community content is available under
CC-BY-SA
unless otherwise noted.