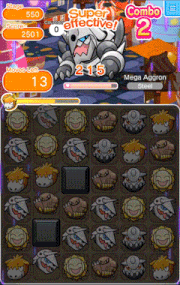 Disruptions occur during stages as an attempt to limit the player's gameplay. If a target Pokémon disrupts, there is usually a counter next to the Pokémon during the stage.
Disruption Rules
Edit
There are three parts to a stage's disruptions: the initial board layout, the countdowns, and the added Non-Support. A stage can have any, all, or none of these.
The initial board layout is exactly as it says - the board is predefined in a certain way and may have other predefined layouts in the queue (as in, not shown on the 6x6 board yet)

Initial board layouts are provided in this Wikia. Unown is used to indicate any of the player's Support Pokémon, while colored Unown are used to indicate a specific Support Pokémon (meaning all of the same color will be one of the player's Support Pokémon)

Most stages will have one, two, or three countdowns, each with its own set of rules about when and how to disrupt and when to switch between countdowns
Some stages include an additional added Support Pokémon known as a Non-Support, making comboing much more difficult
Types of Disruptions
Edit
There are six types of disruptions.
| Name | Description | Icon |
| --- | --- | --- |
| Rock | A square block that can be erased by making a match adjacent to it | |
| Block | A square metallic block that can't be erased by adjacent matches like a Rock can. Disappears 5 moves after appearing. | |
| Barrier | A square ice block that covers and freezes an icon in place, preventing it and any tiles above from falling, possibly creating empty tiles. Matching a frozen Pokémon icon will remove the Barrier, but the icon will remain for matching again. | |
| Black Cloud | A black cloud that covers and hides a Pokémon icon, but does not prevent it from being moved. | |
| Coin | Grants bonus Coins after clearing the stage if matched by the player or in a combo (100/300/500/700 for 3/4/5/6 match) | |
| Non-Support | A Pokémon icon not on the player's Support Pokémon team, usually as the same type as the target Pokémon. If a stage adds a Non-Support Pokémon, and it is already on the player's team, the default Pokémon will be added instead. | N/A |