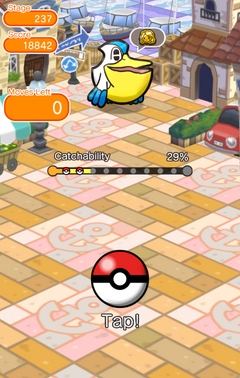 Catchability is the probability of catching a Pokémon after a stage is cleared. Each stage has a base catchability along with bonus probability based on number of moves or seconds left.
If the player has not caught the target Pokémon yet, the game will enter a "Catch That Pokémon!" scene, and the player is forced to attempt to catch the Pokémon.
If the attempt fails, the player is given the choice to spend 2500 Coins (3500 on Mobile) for a second attempt, using a Great Ball this time, which doubles the catchability (up to a max of 100%).
Additionally, there is a chance for a Super Catch Power, which will further increase the catchability by a random amount (up to a max of 100%), but the player will still have to spend Coins on the Great Ball to attempt it.
The player can continue to attempt catching the Pokémon as long as they have enough Coins to spend on the Great Balls, but each failed attempt also gives the Pokémon a chance to escape
Community content is available under
CC-BY-SA
unless otherwise noted.